Recreational fishing in Tenerife
RECREATIONAL FISHING
Recreational fishing is the activity of catching fish or shellfish for entertainment, sport or hobby and not for profit, and in which catches may not be sold.
Recreational fishing is a regulated activity and can be of various types:
Shore-based: fishing on foot from the shore.
From a boat: that which is practised from boats suitable for this activity and registered in the corresponding list of the Official Register of Vessels.
Spearfishing: that which is practised by free diving, without using any type of element that allows breathing during immersion, or mechanical means of propulsion.
Recreational fishing is often carried out in the same areas as professional fishing, involving the same commercial species. This activity has experienced a boom in recent years, so it is essential to improve the dissemination, knowledge and information to those who practice it about the relevant regulations, in order to achieve an adequate and sustainable development of this activity, making the economic and leisure benefits compatible with the need to preserve fishery resources and the biodiversity of our waters.
Recreational fishing is a very common activity in the Canary Islands and is one of its tourist attractions. It is estimated that more than 5% of the population of Tenerife carries out this activity in one of its modalities.
RECREATIONAL FISHING LICENCES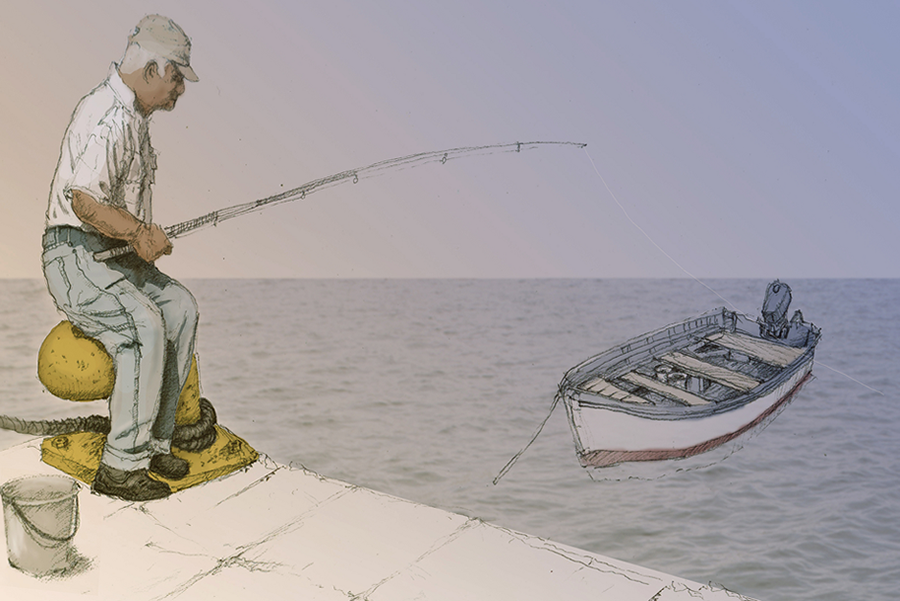 A fishing licence is compulsory for recreational fishing. Recreational fishing licences issued in other Spanish autonomous communities are also valid in the Canary Islands.
There are three types of recreational fishing licence:
First Class Licence: is required for fishing from a boat with a handline, rod, trolling line, surface trolling line, volantino and jig.
Second Class Licence: required for spearfishing with hand or mechanically propelled means (spearguns) and shellfishing on foot.
Third Class Licence: required for surface, shore and boat fishing and shellfishing on foot.
PROCESSING OF RECREATIONAL FISHING PERMITS
All fishing licences can be applied for either in person or online and can be applied for together. These licences become active immediately and are valid for three years. They must always be carried with you when you go fishing.
Processing can be done in person or online. Fishing licences are valid for three years and must be renewed after this period.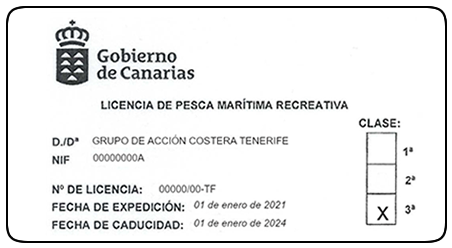 In person. By filling in an application form and presenting it at the offices set up on each island.
Application
Offices in Tenerife by appointment. Telefone: 922 47 00 12
Servicio de Inspección Pesquera (Fisheries Inspection Service) (Link map)
Information Office (Link map)
Present Identity Card (DNI, NIE or passport).
The form 700 and Proof of payment of fees.
In case of minors: consent of the legal guardian, identity document of the legal guardian and the family book.
Spearfishing, medical certificate certifying that the applicant is able to practise recreational free lance spearfishing.
Fees (Year 2022)
| Class | Euros |
| --- | --- |
| 1 Class | 32,52 € |
| 2 Class | 24,39 € |
| 3 Class | 16,27 € |
| 1 + 2 Class | 56,91 € |
| 1 + 3 Class | 48,79 € |
| 2 + 3 Class | 40,66 € |
| 1 + 2 + 3 Class | 73,18 € |