PROFESSIONAL FISHING IN TENERIFE
The Canary Islands have a deep-rooted fishing culture, with records of fishing activity on the island dating back to the 16th century. The fishermen of Santa Cruz were known as chicharreros, due to the species they caught, a name that has been attributed to the inhabitants of the island's capital. Fishing has taken root in all the coastal areas of the islands, where today fishing is still mainly artisanal, with little mechanisation of the sector and a large number of enthusiasts, both sporting and recreational, who enjoy this form of leisure activity on a recurring basis.
The Canary Islands are volcanic islands on an oceanic platform, which gives them great depths very close to the coast. This peculiarity generates a great diversity of marine species in a short distance from land. This characteristic feature is a strong point for the fishing of a great variety of fish.
One practice that attracts the attention of outsiders is tuna fishing. In the months of March to June the large migratory species pass through Canarian waters and the professional tuna fishing boats are put into action. Live bait is used and fishing is done with a rod and large-gauge hooks from small boats.
Recreational fishing is also of great importance on the island, given the large number of enthusiasts of this sport. There is a very strong family and cultural rootedness mainly in fishing villages that for years have based their economic activity on fishing and this activity of entertainment has been inherited generation after generation.
If you want to know more about artisanal fishing in Tenerife visit the web Gactenerife.com.
BEST FISHING SPOTS ON LAND AND SEA IN TENERIFE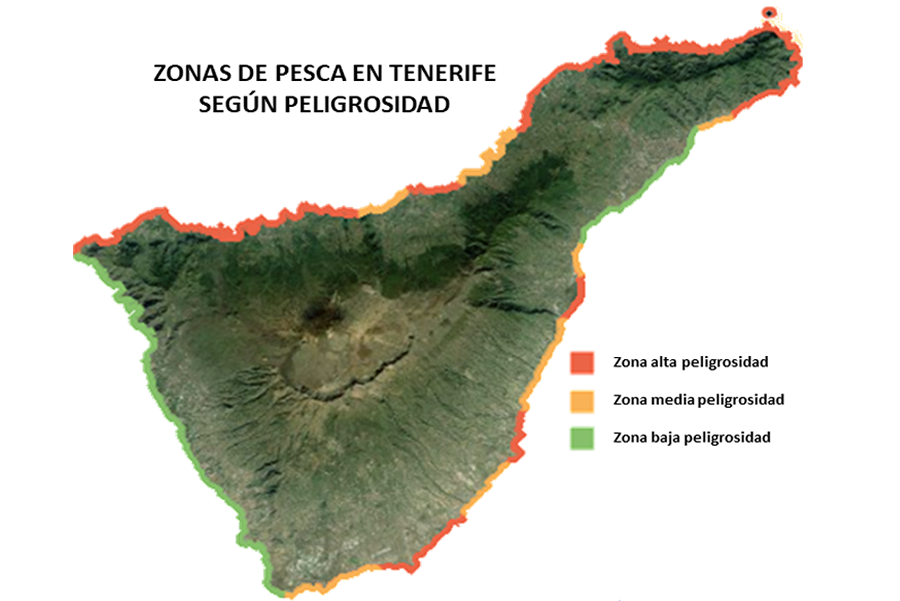 On the island of Tenerife the most rested areas and with the greatest variety of species are the northern areas. It is recommended to look for coves with shelter and without sandy beaches, for example: the coast of El Sauzal, Punta del Hidalgo, Garachico, among others. It must be taken into account that these areas have a complicated orography and stronger tides. In the southern part of the island the sea is calmer, but fishing stocks are lower and the sandy areas are more predominant, where the variety of species for fishing decreases.
In the case of underwater fishing, the permitted areas and the weather of that day must be considered to choose the best area.
MOST COMMON CATCHES IN RECREATIONAL FISHING IN TENERIFE
Boat fishing is mainly for red porgy and common pandora, but also for common two-banded seabream, comber, pejeperro, redbanded seabream and large pelagic fish: tuna, bonito, wahoo, among others
Spearfishing for greater amberjack, viejas, red porgy, redbanded seabream and island groupers.
In shore angling the most common catches are: bogas, salema, barracudas, pejerey, Atlantic pomfret, Atlantic horse mackerel, bigeye, mackerel, sargo, viejas, among others